The annual Quail Motorcycle Gathering's 11th edition wrapped this past weekend on the fabulous grounds of the Quail Lodge & Golf Club, and even if you normally think of ascots and cigars when you think "golf club," the party turned out to be more inclusive and diverse than ever. Sure, you had your century-old vintage machines and specialty classes for 50 Years of the Honda CB750 and 100th Anniversary of the Brough Superior, but among the more than 300 bikes spread out over the lush lawns you could still find a good amount of funk and modern engineering if you looked hard enough.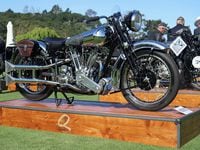 We're not even gonna try to name the best bikes we saw or anything like that; we'll just get right into the funkiest and coolest finds we came across. Some of them happened to win an award and some of them weren't even entered (or probably even meant to be seen), but all were pretty dang original.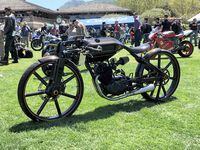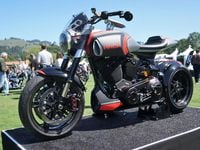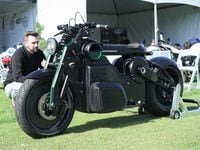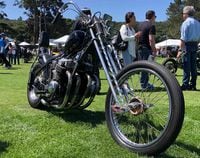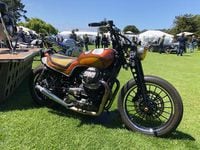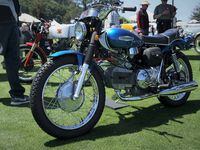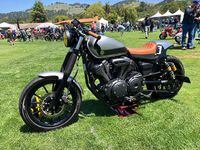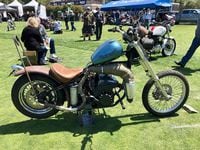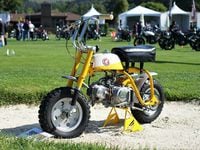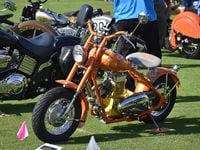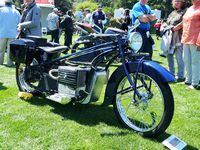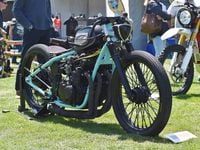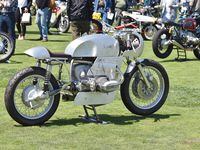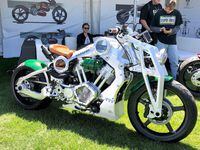 All winners listed below.
2019 The Quail Awards
Best of Show
1969 Honda CB750 Sandcast
50 Years of the Honda CB750
Spirit of the Quail Award
Chad Castle Family Private Collection
Private Collection
The Quail Ride Award
1986 Bimota DB1R
Adam Cecchini
50 Years of the Honda CB750 Award
1969 Honda CB750 Sandcast
Sam Roberts
Off-Road Wonders Through the '90s Award
1969 Cheney/Triumph 750cc Scrambler/MX
Scott Dunlavey
100th Anniversary of the Brough Superior Award
1925 Brough Superior SS100
Larry Bowman
Spirit of the Scrambler Award Presented by Ducati
2016 Scrambler by Ducati
Tom Zipprian
Industry Award
2019 BMW prototype BMW boxer
Revival Cycles
(Custom/Modified)
Innovation Award
1989 Norton F1 preproduction prototype
Stephen Haddad
(British 1936–1979)
Significance in Racing Award
1967 Honda 450 Daytona Racer
Ron Mousoris
(Competition on Road)
Design and Style Award
1981 Honda XL500
Niki Smart
(Custom/Modified)
Why We Ride Award
1962 Mustang Stallion
Jim Taylor
(American 1936–1979)
HVA Preservation Award
1929 Brough Superior 680 OHV
Bryan L. Bossier, Sr.
100th Anniversary of the Brough Superior
AMA Motorcycle Hall of Fame Heritage Award
1970 Jawa 652
Chris Carter
Antique 1st Place
1929 Douglas 4 ¼
Bill Wheeler
Antique 2nd place
1918 BSA Model H
Budd Schwab
American 1st Place
1953 Indian Chief
Matt Blake
American 2nd Place
1970 Indian Little Indian
Clive Belvoir
British 1st Place
1964 BSA Lightning Rocket
Robert Ives
British 2nd Place
1962 Triumph T6 Thunderbird
TSW Collection
Italian 1st Place
1972 Ducati 750 GT
Stewart and Renee Garrison
Italian 2nd Place
1961 Ducati Bronco 125
Kenneth Davis
Japanese 1st Place
1974 Kawasaki HIE
Owen Bishop
Japanese 2nd Place
1978 Kawasaki Z1R
Trace St. Germain
Other European 1st Place
1976 BMW R90/S
Mark Francois
Other European 2nd Place
1968 BMW R60/2
Kenneth Morris
Competition on Road 1st Place
1979 Kawasaki AMA Superbike
Kevin McKee
Custom/Modified 1st Place
1981 Honda XL500
Niki Smart
Custom/Modified 2nd Place
1966 Honda S90
Dustin Kott
Extraordinary Bicycles/Scooter Award
1957 Lambretta LD150 MK3
Eric Lussier